There are many ways to learn about human rights, you can learn by reading a human rights blog or visiting a site dedicated to human rights; reading books about human rights, or you can visit attractions or places that are dedicated to the promotion and education of human rights.
If visiting a place is something of interest to you, or you love traveling and are interested in experiencing more about human rights education, I have some suggestions for you.
There are three places that you can learn about Human Rights.
1. Canadian Museum for Human Rights in Winnipeg, Canada
Located in Winnipeg Canada, the Mandate of the Canadian Museum for Human Rights is to explore the subject of human rights, with special but not exclusive reference to Canada, in order to enhance the public's understanding of human rights, to promote respect for others, and to encourage reflection and dialogue. Their roles in human rights include:
Preserving and promoting our heritage at home and abroad
Contributing to the collective memory and sense of identity of all Canadians
Inspiring research, learning, and entertainment that belong to all Canadians
The Canadian Museum for Human Rights is rooted in humanity, making visible in the architecture the fundamental commonality of the humankind-a symbolic apparition of ice, clouds and stone set in a field of sweet grass. Carved into the earth and dissolving into the sky on the Winnipeg horizon, the abstract ephemeral wings of a white dove embrace a mythic stone mountain of 450 million year old Tyndall limestone in the creation of a unifying and timeless landmark for all nations and cultures of the world.
The 2nd floor has exhibitions about basic knowledge of human rights as well as history of Indigenous in Canada. The 3rd floor of the museum has more information about protecting the human rights in Canada. Other floors include other human rights related exhibitions including arts and the Holocaust.
The museum also has a mobile application that you can download on iOS and Andriod phone.
2. National Center for Human Rights in Atlanta, GA
Located in Atlanta, the National Center for Human Rights' purpose is to create a safe space for visitors to explore the fundamental rights of all human beings so that they leave inspired and empowered to join the ongoing dialogue about human rights in their communities.
The center has a few current exhibition, such as the American Civil Rights Movement. The Civil Rights Movement gallery presents the brave fight for equality in The American Civil Rights Movement of the 1950s and 1960s. Visitors will be immersed in a visceral experience of sights, sounds and interactive displays depicting the courageous struggles of individuals working to transform the United States from Jim Crow laws to equal rights for all.
The other is the Global Human Rights movement – The gallery features interactive technology intended for all audiences to help visitors gain a deeper understanding of human rights and how they affect the lives of every person.
3. Museum of Memory and Human Rights in Santiago, Chile
The Museum of Memory and Human Rights is located in Santiago, Chile. The Museum of Memory and Human Rights seeks to draw attention to human rights violations committed by the Chilean state between 1973 and 1990. Its mission is to allow dignity for victims and their families, stimulate reflection and debate and to promote respect and tolerance in order that these events never happen again. The Museum of Memory and Human Rights (in Spanish: Museo de la Memoria y los Derechos Humanos) is a Chilean museum located in Santiago, dedicated to commemorate the victims of human rights violations during the civic-military regime led by Augusto Pinochet between 1973 and 1990. It was inaugurated by former President Michelle Bachelet on January 11, 2010, which formed part of government works celebrating the bicentennial of Chile.
It is a Bicentennial project, inaugurated on January 2010, by then President Bachelet. Its purpose is to promote educational initiatives that enhance knowledge and consideration. Its location, on Matucana Street, is also part of an ongoing effort to promote the cultural circuit of Santiago's West Side.
Through objects, documents and archives presented in different settings and formats, as well as an innovative sight and sound presentation, it is possible to learn part of this history: the military coup, the repression that took place in the following years, the resistance movement, exile, international solidarity, reparation policies, among other issues.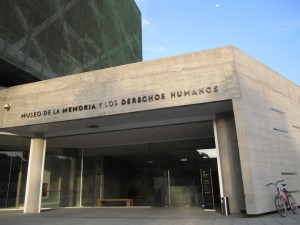 The archives' patrimony includes oral and written testimonies, legal documents, letters, tales, literary production, press clips, visual and radio material, feature films, historical material and documentary photos.
Its spaces for temporary exhibitions, its 8,000 square meter plaza, the auditorium and the public art pieces that are part of the architecture are intended to transform the Museum into a high profile cultural institution in Santiago.
The Museum of Memory and Human Rights is a dynamic and interactive space that rescues Chile's recent history and recovers truth, which grows and reflects itself in a culture of respect for the dignity of individuals.
4. Dallas Holocaust and Human Rights Museum in Dallas Texas
The Dallas Holocaust and Human Rights Museum is dedicated to teaching the history of the Holocaust and advancing human rights to combat prejudice, hatred and indifference. Located in Dallas' Historic West End, the Museum hosted more than 80,000 visitors in 2018, among them 34,000 school children.
The Holocaust/Shoah Wing (Hebrew for 'catastrophe') explores the savagery of the Einsatzgruppen, their acts of individual murder and terror, followed by the events that culminated in the "Final Solution" and the industrialized killing of the Nazi death camps. The International Military Tribunal and the creation of the Universal Declaration of Human Rights, the Human Rights Wing shows just how the world progressed in the years following the Holocaust. A top-rated attraction in North Texas, the Museum is one of just a few Holocaust-related museums or centers in the United States and the only Holocaust museum serving North Central Texas, as well as the adjacent states of Oklahoma, Arkansas and Louisiana. The Museum has been recognized for its compelling and creative programming, internationally recognized exhibits, and world-class speakers.
Programs and services at the Holocaust and Human Rights Museum include:
Permanent and special exhibitions of the highest caliber, with docent-assisted and self-guided tours;
Holocaust Survivors' testimonies shared with thousands of Museum visitors and school groups each year and Survivor presentations to organizations throughout the region;
Hundreds of school tours conducted for students grades 6-12;
Upstander Speaker Series bringing renowned speakers on human rights issues to the DFW community;
Civil Discourse Series presenting multiple sides of thought-provoking topics through respectful discussion;
Subject matter experts available to speak to schools and community groups;
A rich archive and research library available to Museum members and researchers;
Digitized testimonies of Holocaust Survivors and Survivors of other genocides available for viewing in the library.
Where can I learn more about Human Rights?
You can visit a Human Rights center or museum that is dedicated to Human Rights.
National Center for Human Rights in Atlanta, GA
Canadian Museum for Human Rights in Winnipeg, Canada
Museum of Memory and Human Rights in Santiago, Chile
Dallas Holocaust and Human Rights Museum in Dallas, Texas
You can also learn more about Human Rights at Diversity.Social
Diversity and Inclusion Press Release Amplification Service