Important Diversity and Immigration Statistics in Canada. How diverse and Inclusive is Canada?
Canada is one of the most diverse countries in the world
In this article, you will learn:
Everything you need to know about Diversity in Canada.
why Diversity and inclusion are important to Canada?
what is the legal acts and legislations related to diversity in Canada?
Diversity is recognizing our individual differences. Differences can be age, gender, race, place of origin, colour, disability, sexual orientation, gender identity, socioeconomic status, religious beliefs, marital status, family status and culture. Differences can also be in our values, talents, work experience, language and communication skills.
Diversity is about respecting, understanding, valuing and leveraging our differences in ideas, perspectives, backgrounds, cultures, skills, experiences and needs to create and maximize opportunities and potentials for individual, community and business growth.
Why do we care about Diversity in Canada?
Diversity is what makes up our home – Toronto and Canada!
1 out of 5 people in Canada's population is foreign-born.
Let's look at some data from Statistics Canada – 2016 Census.
| | | | |
| --- | --- | --- | --- |
| | Toronto, Ontario | Male | Female |
| Population in 2016 | 5,928,040 | 2,876,755 | 3,051,290 |
| Mother tongue in English | 3,061,820 | | |
| Mother tongue in French | 65,535 | 3948 | |
| Mother tongue in non-official languages | 2,518,555 | | |
| Non-immigrants | 3,020,405 | | |
| Immigrants | 2,705,550 | | |
| Aboriginal identity | 46,320 | | |
| Total visible minority population | 3,011,905 | | |
| South Asian | 973,225 | | |
| Chinese | 631,050 | | |
| Black | 442,020 | | |
| Filipino | 254,475 | | |
Important Diversity and Inclusion Statistics in Canada
Other highlights on Diversity in Canada from Stats Canada:
In 2018, 23.6% of Canada's population is foreign-born – the highest proportion in the G8 countries. The majority of this population lived in Ontario, British Columbia, Quebec and Alberta.
Canada's largest source of immigrants from 2006 to 2020 was from Asia.
40% of racialized people in Ontario who were surveyed by the Ontario Human Rights Commission in 2017 report experiencing discrimination because of race or colour in the last 5 years.
Almost 6,264,800 people identified themselves as a member of a visible minority group.
The vast majority of the visible minority population lived in the 3 largest census metropolitan areas: Toronto, Montreal and Vancouver.
Sex
Immigration
Languages
19.4% of Canadians reported speaking more than one language at home, up from 2011 (17.5%). (Source)
36 – The number of Aboriginal languages in Canada in 2016, with more than 500 speakers. The five most commonly reported languages were: Cree, Inuktitut, Ojibway, Oji-Cree, and Dene. (Source)
Aboriginal People
In 2017, among First Nations people living off reserve, 51% of unemployed women reported that not having enough education for available jobs had caused them difficulty in finding work compared to 40% of unemployed men. (Source)
In 2017, 16% of employed Métis men were self-employed, compared with 11% of employed Métis women. (Source)
In 2017, 1 in 5 Inuit women planning to enter the labour force in the next year reported that child care assistance would help them most to find a job. (Source)
Disability
In 2017, 22% of people aged 15 years and over have a disability which represents 6.2 million Canadians. (Source)
In 2017, women (24%) were more likely to have a disability than men (20%) in Canada. (Source)
In 2017, more than 1 in 10 youth aged 15 to 24 years old in Canada have a disability. (Source)
Within 20 years, the total income of Ontario's senior and people with disability will be over $550 Billion a year,
Ethnocultural diversity
250 – The number of ethnic origins or ancestries that were reported by the Canadian population in 2016. (Source)
So what does that mean for me as Employers and Business Owners in Canada:
Business opportunities, growth and return on investment:
According to the 2016 census data, approximately half of Toronto's population is an immigrant and visible minority.
The population of Toronto and Canada is very diverse in their needs for services, products and communication. Attending to these diverse needs translates into business opportunities, growth, better engagement and relationship & community building.
To better understand and serve those needs, to tab into your large existing and potential customer market, a diverse workforce representative of your customers and Canada's current and evolving population of Toronto is valuable and can bring you return-on-investment.
Opportunity to leverage talents and innovation that may be lacking in the company:
Talents from overseas, different cultures, sectors and backgrounds can bring fresh perspectives, insights, wider range of skills, ideas and innovation that your current workforce may be lacking.
They can bring successes that have worked into your company, lessons learnt from failures, innovation that has brought return to investment into a new market that has not seen this innovation yet.
Leverage the extensive range of backgrounds and skillsets to enhance creativity, innovation, problem solving, productivity and profits.
Diversity gives you competitive advantage in the market.
To build corporate branding to attract and retain diverse talent:
Improve reputation
Become an employer of choice
Attract better talents
Reduce employee turnover by fostering an inclusive work environment
Enhance employee engagement and sense of belongingness
To comply with legislations:
Ontario Human Rights Code (OHRC) – prohibits discrimination and harassment in employment (including recruitment, hiring, promotion, workplace conditions) on grounds of age, colour, place of origin, race, ancestry, sex, sexual orientation, gender identity, gender expression, marital status, family status, creed, citizenship, record of offences or disability.
Employment Equity Act – 4 designated groups (aboriginal people, people with disabilities, members of racial minorities and women) experience more discrimination than others in finding & retaining employment and getting promotion. Promoting equal opportunity and fair treatment in employment, eliminating discrimination and barriers, increasing opportunities for individuals from the designated groups to contribute in the workplace will benefit all people in Ontario.
Is Canada a diverse country?
History of Racism in Canada
However, Canada didn't start perfectly. There is a long history of discrimination in Canada, but all of that is over now!
| | | |
| --- | --- | --- |
| Time Period | Racism Events | Racism Targets in Canada |
| 1628 – 1800's | Slavery | Afrian People |
| 1886 – 1996 | Residential Schools | Indigenous People |
| 1881 – 1947 | Head Tax/Exclusion | Chinese People |
| 1914 | Komagata Maru | South Asian People |
| 1939 | Turned Away | Jewish People |
| 1941 – 1949 | Internment | Japanese people |
| Until 1967 | Post-WWII Immigrants | Post-WWII Immigrants |
How does Immigration impact Canada's population and economy?
According to the UN DESA 2019 data of United Nations, 1 in every 30 people migrate – that is 272 million international migrants out of 7.7 billion of the global population.
According to the projections by Statistics Canada, by 2036, 23% to 25% of our population will be at least 65 years old. By the time we get to 2061, seniors will account for 24% to 28% of the total population.
Birth rate is in decline. The Canadian population is aging rapidly, particularly the baby boomer generation. People live longer means more reliance on our social benefits, health care and pensions for the prolonged retirement life.
When we have more people receiving social benefits while fewer people contributing into the Canada Pension Plan or taxes, to sustain, workers will have to contribute more, or receivers will get less payment/benefits.
Alternatively, we'll need a higher birth rate or more immigrants to join the support stream.
Birth rate is in decline in Canada
Think about how many siblings your great-grandfather had? How about your grandmother? Your parents? And yourself?
Birth rate in Canada is about 1.5 children per woman in 2019, and 1.61 in 2018.
According to Statistics Canada, Canada shows the strongest population growth out of all the G7 countries. Canada's population growth rate is two times higher than that in the U.S.. And international migration accounts for most of Canada's population growth. "Last year's unprecedented level of international migration is the result of strong immigration levels and the arrival of a significant number of non‑permanent residents. Canada welcomed 303,257 immigrants last year, the second-highest number observed during the study period from 1971 to 2018. … The highest number was recorded in 2015/2016 (323,192 immigrants), when Canada welcomed many Syrian refugees."
For those of you who are curious, on July 1, 2018, more than 86.4% of Canadians (about 32 millions) live in one of the 4 major provinces: Ontario (38.6%), Quebec (22.6%), British Columbia (13.5%) and Alberta (11.6%).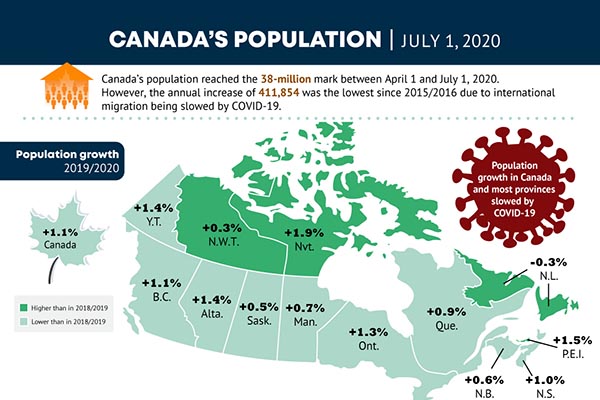 Looking at data from Statistics Canada, "International migratory increase" is the main driver of population growth in all provinces in Canada.
Immigration and Economy in Canada
It is a fact that Canada relies on immigrants to achieve and maintain growth in our economy, and to keep our social programs such as pensions and health care system sustainable.
Immigrants also contribute to the supply of manpower where it is hard for local companies to get skills that are lacking in the current workforce (ex. our scientific and technological sector).
Immigrants also help fill lower skilled or lower paid jobs that may not be easily picked by the native-born Canadians. Small businesses benefit from the lower cost, passing down to the lower price that overall Canadians enjoy. Did you know that Canada is one of the eight countries in the world that spends the least of their household income on food? Check it out at weforum.org.
Although new immigrants tend to have lower paid jobs and pay less taxes to our government initially, more people in the country means more people buying groceries, cars and clothes, etc., expanding our economy by purchasing services and products where local businesses would benefit. Over time, after transitioning, new immigrants will eventually not need more social assistance than Canadians.
New immigrants can have some impact on wages and employment but at the same time they are also more entrepreneurial than our general population once they settle in.
People who make the choice and decision to immigrate tend to be more entrepreneurial. Study shows that immigrants are more likely than native citizens to start a company in U.S..
This approximately 15% of the U.S. population have started about 30% of American businesses. And did you know that almost out of the 87 most valuable private start-ups in Silicon Valley, half of all the Fortune 500 companies were founded by immigrants and their children? 71% of the companies have immigrants in key executive roles. Read more here at Newsweek.
According to Business Insider, " Some of the biggest Fortune 500 companies fall into that category, like Amazon, Apple, Tesla, and Alphabet, Google's parent company." Immigrants starting and running businesses means another opportunity of establishing employment, creating products that we sell overseas, which is another way immigrants contribute to the overall economy and GDP.
There is a higher business ownership rate for immigrants who have been in Canada for 10 years or more to have a small-scale start up in service and/or retail. Although these tend to be small-scale businesses employing fewer people, immigrants are an asset to our general population as also contribute to part of the overall economy.
There are also immigrants who come to Canada with a higher education, skills and experience. They bring with them a wide spectrum of vision, experience, business ideas that succeed in other countries, innovation that can help drive Canada forward to become a more competitive global leader.
As Canada welcomes more and more immigrants each year to combat our rapidly aging population, these new immigrants will become part of our consumer base in our economy. Immigrants from the diverse backgrounds and cultures know immigrants' markets the best. Are our local businesses and companies taking advantage of the immigrant workforce's insightful experience and knowledge of the immigrant markets? It is inevitable that we will have a more and more diverse workforce in the Canadian economy. Why not become part of the initial wave to be open and adaptative to build a diverse and inclusive business and work environment?
Tap into the diverse and unique pool of opportunities ahead of your competitors.
Hottest News on Canada Diversity & Inclusion News in 2021
---
Diversity and Inclusion Press Release Amplification Service